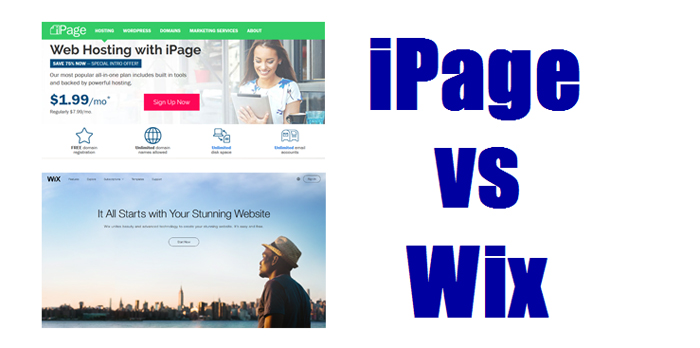 How does iPage compare with Wix? This comparison between a traditional web hosting plan and a website builder package takes a look at iPage's Hosting plan versus Wix's website builder plans.
iPage vs Wix For eCommerce Websites
When comparing iPage and Wix, the choice usually comes down to one of control and flexibility versus ease and simplicity. And that's definitely evident when it comes to eCommerce websites. If you're looking for the easier solution for online selling, then Wix is for you. Their eCommerce plan lets you get up and selling quickly using their templates and apps. With iPage, you have the choice of multiple eCommerce application software packages such as PrestaShop, OpenCart, osCommerce, and others. Although you may have to do a little more work with iPage, you do have more overall control over your website. In this category though, I would recommend Wix.
iPage vs Wix For Blogs
If your blog will be the main showcase of your website, then iPage is the better choice. You can easily host your WordPress site at iPage. Wix does let you add blogging functionality with their blog app, but I prefer having all the benefits of WordPress for my blog. iPage is the winner in this category.
iPage vs Wix For Small Business Websites
It's a close call here when it comes to building a small business website. You can quickly and easily create your website using the site builders at both Wix and iPage. Ultimately for me, it comes down how extensive your website is going to be. If you plan on having a huge business website with tons of content, then iPage is probably the better choice. However, for most small business sites, I would recommend Wix here.
iPage vs Wix Comparisons
| Features | iPage | Wix |
| --- | --- | --- |
| Easy Site Creation | | |
| Website Speed | | |
| Resources | | |
| Site Security | | |
| Customer Support | | |
| Transferability | | |
| Value | | |
Advantages and Disadvantages
Recommendation
Of all the web hosting companies, we see iPage as the closest competitor to Wix as far as the target market. Both iPage and Wix are geared towards people that may not have a lot of web experience, but want a way to easily and quickly create a website and get it online.
As we've seen in this and other comparisons between a traditional web hosting plan and a website builder package, the advantage of a web hosting plan is that you get more features, flexibility, and control over your website. With a website builder plan, you get an easier, more convenient way to create a website more quickly.
If you want to use WordPress for your website, iPage offers one-click installation. And, if you want to create an eCommerce site, with iPage you can choose from PrestaShop, osCommerce, Zen Cart, OpenCart, AgoraCart, or TomatoCart to use as your shopping cart software—again using a one-click installer.
However, Wix is still more user-friendly, and lets you easily create a website more quickly. We find Wix better suited for beginners creating their first website. Also, if all you really need is a basic online brochure type of site or a website containing standard pages for customer acquisition and promoting your business, then Wix is definitely the better choice.
For this comparison, Wix is the winner for most websites. See our Review Ratings for Wix below.