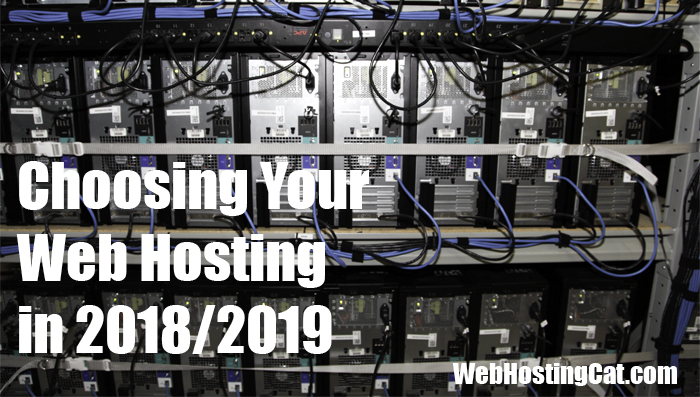 If you're looking to get that website project done in 2018, one of the first steps you need to take is deciding what type of web hosting you'll need. The web hosting landscape has definitely evolved over the years, so we need to take a fresh look at how you should go about choosing your hosting in 2018.
Web Hosting, like most everything else, continues to evolve–and so does the criteria for evaluating and selecting the right hosting for your websites. I get a kick out of reading articles that still only list what I consider legacy features as what you should look for when choosing web hosting. Since the web is a very different place than it was even just a few years ago, I believe we need to take an updated approach when considering which web hosting company and web hosting plan is right for you.
So, here are my recommendations on what to look for and what to consider when choosing your web hosting in 2018 and 2019. Let's take a look at the features that may have been critical in the past along with what you should be considering instead in your web hosting search today. Now, keep in mind that some, if not all, of the features we used to look for in a web hosting plan are still important today. However, in most cases there are now more refined or extended functionality that you really need to focus on more in your web hosting search.
7 Considerations when Choosing your Web Hosting
Here's what we looked for in the past and what I recommend you look for now.
Then:
Network and Server Uptime Percentages
Now:
Data Center Locations
These days, most web hosting companies tout 99%, 99.9%, or even 100% uptime guarantees. But while at one time these were the kinds of figures you might be looking for, the reality is that it's now common for a web host to offer this type of guarantee. However, what it really means is that if your hosting is down for more than their stated percentage, you simply get reimbursed or credited a certain amount. Stuff happens and once in a while your site may be down for a bit, but if you choose one of the more established and higher rated hosting companies, you should be fine.
Instead, I would recommend you consider where the particular data centers for your potential web host are located. The location of your data center plays an important part of your website speed and should not be overlooked. Ideally, you want your web hosting company to have multiple data centers (located across the globe) that you can choose from.
So while uptime guarantees are nice, today speed is the key to successful website. Since the top web hosting companies are pretty similar with regard to uptimes, focus more on their data center offerings.
Then:
Hardware and Technical Specs
Now:
Proprietary Caching Technology
While hosting companies may still list the types of servers, processors, memory, and storage specs that you get with their hosting, the reality is that the top web hosting companies out there utilize basically the same type of hardware whether you're talking about Dell Servers, Intel, etc. There may be some variation, but again if you choose a well-established web host, you're getting similar specs from most places.
For an added boost of speed, what you really should focus on these days is what type, if any, proprietary caching technology does a web host include. A premium caching mechanism can greatly speed up web page loading times, allowing for a much better user experience. Combined with a content delivery network (CDN), your caching technology can provide even better results.
Then:
WordPress Hosting
Now:
Proactive and Enhanced WordPress Support
Where at one time WordPress hosting was a feature you might look for, because WordPress has become so popular all web hosts now provide some type of WordPress hosting. It isn't a question of, does your web host include WordPress hosting, but rather what kind of WordPress hosting do you get? Does a web host provide proactive and enhanced WordPress support?
Besides expert WordPress assistance, you also want to look for a WordPress environment that is optimized for speed and security. And going a little further, you might also want to look for managed WordPress hosting features such as website backups and automated updates.
For more specific assistance on choosing WordPress hosting, check out my article on WordPress Hosting Recommendations.
Then:
Customer Support
Now:
Customer Support Access and Response Time
Customer support is still one of the most important parts of your web hosting. However, it's no longer acceptable to have support only for a limited amount of hours or through one or two channels. It's no longer acceptable to only offer phone support. These days, you need to make sure your web host provides multiple avenues of support—and a support team that is available 24/7/365.
I highly recommend choosing a web host that includes 24×7 support via phone, email, support ticket, and live chat. Additionally, you can also find some hosting companies such as InMotion Hosting that provide support via Skype.
Then:
Web Applications
Now:
Website Builders
It used to be that you might look for a cPanel hosting plan that included all of the web applications available from that interface in addition to content management systems like WordPress, Drupal, and Joomla. However, these days many web hosting shoppers are looking for quick and easy websites. And with the success of website companies such as Wix and SquareSpace, many web hosting companies are now offering website builders with their hosting.
For example, A2 Hosting, GreenGeeks, and HostGator are just a few of the web hosts that have recently added website builders to their lineup. And for WordPress users, InMotion Hosting has included the BoldGrid website builder with their hosting plans for a couple of years now.
Then:
Web Server Security
Now:
Website Security
Security was, is, and will always be a big factor in web hosting success or failure. But while the security focus was previously directed at the server level, it's important these days to recognize and address security at the website or web application level as well.
For example, although features such as virus scanning and server monitoring are still important, you also want to look for DDoS protection, as well as free SSL certificates. And for the ultimate website protection, you might also want to look for website security options such as those from Sucuri—which a number of web hosts are now offering.
Then:
Extra Freebies
Now:
Managed Services
In the past, you might browse through a web hosting plan to see what extra features or freebies were included. These items might include advertising credits, marketing services, or software applications. While some hosting companies still include these, they aren't as plentiful as they once were. More importantly, these extra freebies aren't really what I recommend you look for if you're interested in bonus features. Instead, what you really should focus on these days is what if any managed hosting features are included with your hosting plan.
Managed hosting features, whether they include automatic updates, automated backups, proactive security features, etc. not only help to keep your website up and running effectively, but they can also free up some of your time so you can focus on your business, create more content, or spend time on your other projects.